Sketchzoo is the latest theme developed by Forum Mechanics. It is a variation of Startaza and it keeps many of its nice features, firstly responsiveness, so that the theme dynamically adapts to any device screen providing your forum members always with an optimal rendering. I will never stretch enough the fact that mobile friendliness is a very important factor to be compliant with the latest Google recommendations. This is definitely a ranking signal in search results. No doubt that sites that are fully optimised for mobile platforms will be rewarded by the search algorithm. In addition to this having a website responsive will allow you to focus all your attention on a single layout in both development and SEO, reducing costs considerably.
The theme also maintains the peculiar right sidebar, that now is fully configurable in the admin area of your forum installation. From the theme settings you will be able to enable the whole sidebar or the single widgets. Widgets include a top ad spot, a quick login widget, a latest posts widget, a latest topics widget and a popular topics widget. Popularity is calculated by the number of replies the topic received and you can even select the timeframe in which this popularity should be evaluated.
Another nice features of the theme is the gray layout, that a bit dull at first glance, it actually looks a perfect environment to welcome and put in evidence all the pictures, photos and images of the members of your forum.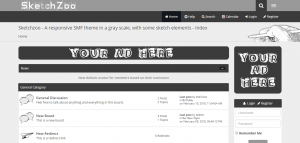 Support:Forum Mechanics
SMF Version: 2.0.15
Theme Version: 1.0.1